If you are a Google chrome user you had seen (Aw Snap error chrome) one or more time when you load a chrome page. Usually this happened when you use a link. In this time people doing open the link in new tab or refresh the page. So its temporary solved the problem but this will happened later. We must fix aw snap error for permanently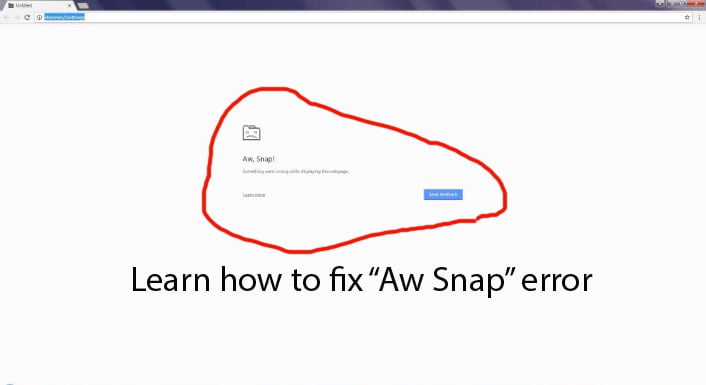 So today we talk about "How to fix Aw Snap error permanently"
Before you fix this problem you should know why this error happened.
Some reasons below:
Browser cache memory full
Slow internet connection
Hardware problem
chrome extensions
anti-virus or security software settings
Check above problems and then follow below steps.
Step 1
Connect your computer to the internet. Then check is works perfectly. If it works perfectly then clear your chrome browsing history.
So go to
Browser settings->Advance setting->Privacy->Clear browsing data.
Step 2
Check the antivirus to see if it set to block specific websites. If it's blocked. Unblock it. For this step check your antivirus and firewall.
Simply to solve this include Chrome as an exception case in your anti-virus and firewall program's.
Step 3
Malware is not only reason for the problem. Sometime virus will reason for the problem. So scan your computer with trusted antivirus software and remove all viruses. Also Run a malware scan with your trusted anti-virus program.Because these Malware and virus programmes can stop connection to online/internet.
Step 4
Sometime it's not working. Press Ctrl + F5 on your keyboard for refresh the webpage. Sometime it's resolve Aw Snap problem. this will helps to fix windows chrome load temporary.
Step 5
Above steps didn't help you. The reinstall Google chrome browser. Before reinstall the software make sure all bookmarks has been backup. But Google doesn't recommend this. Go to backup default folder. Find the bookmarks.bak  folder. the move the file "Bookmarks.bak" to new backup folder (Created when google re-install) and rename the folder as Bookmarks.
step 6
some time chrome will affect for user account. For resolve this issue you must create a new user account.
Place the arrow on the start menu (Windows icon) and right click, then select "File explorer" or Open my computer.
type this on the address bar "%LOCALAPPDATA%\Google\Chrome\User Data\" and hit enter.
Now the new window (Named User Data) will open. Find the folder named "Default"
then rename the folder as "Backup Default".
After that Now open the chrome and open the page That Aw snap was showed.
Step 7
Solve the problem error chrome page loaded with extensions fix
Launch chrome and click on the three round marked (On the right bottom). then select more tool then extensions.
then add check to "developer mode". Now you will see a Update extensions now. Click it and update all extensions.
Now try loads pages.
If did not worked. Disable extension one by one and try to load chrome pages. If worked keep it disabled.
After done all above  fix Aw Snap error  steps,  browser must be work perfectly. If you still had the same problem, Inform us via comment…
Or Contact Us via E-mail