This simple Information technology trade schools review for technology students. Technology is a fast growing carrier in the world. Can you imagine this society without the technology?. Everyone have a phone, television. These are simple technology gadgets.  Because our living, our needs and daily activities hardly connected with technology. So technology stream education is never going you to down. When you start technology carrier first select what you're interested. Technology schools have different program under the technology title. See below some little programs.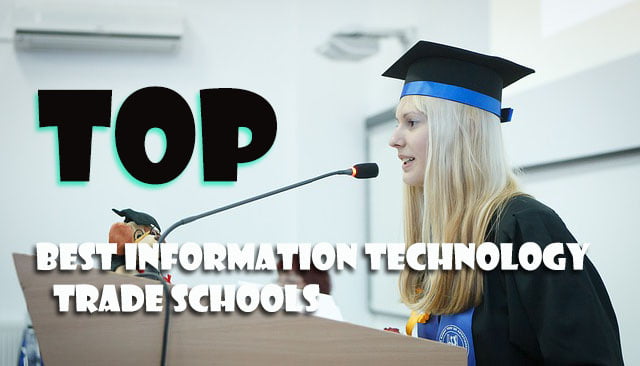 Animation technology.
Architecture technology.
Cloud Computing.
Computer Programming.
Computer Science, Security, Technician.
Electronics.
Information Technology.
Database Administrator.
Drafting.
Engineering.
Environmental Technology.
Home Automation.
Mechanical Engineering Technician.
Mobile Application Development.
Networking and System Administration.
Radio / Television Broadcasting.
Software Development.
Video Game Design.
Web Design and Development.
Do you know about whatsApp co-founder story?
He is a software developer. He rejected by popular social media networks, but he didn't give up himself. Finally he makes a social messaging application that called WhatsApp (Whats up) and sold to facebook for $19 billion…
Below are the best Information technology trade schools
I researched about best information technology trade schools. Then I make a list of Information technology trade schools.  For this I collected information through the internet and technology forums and user experience surveys. I didn't add the full information.So, if your interested in this list then visit the original website for more detailed information.
Keiser University
A private nonprofit based in Florida.
Address: 1500 NW 49th St, Fort Lauderdale, FL 33309, USA.
Phone: +19547764456
Undergraduate tuition fees: 16,936 USD.
Platt College
Address: Building A10,1000 fremont Ave, Alhambra, CA 91803, United states.
Phone: +16263005444
Undergratute tuition fees: 14820 USD.
Baker College Online
Phone: 800 469 4062 or 810 766 4390
For more visit: http://www.baker.edu
Florida Career College
For more visit: http://www.floridacareercollege.com
Sullivan University
For more visit: http://www.sullivan.edu
Grand Canyon University
For-profit university in Phoenix, Arizona.
Address: 3300 W Camelback Rd, Phoenix, AZ 85017, USA.
Phone: +1 602 639 7500
More for visit: https://www.gcu.edu
Vista College
Founded: 1981
Address: Church Rd, Ehrlich Park, Bloemfontein, 9301, South Africa.
Phone: +264 81 377 2137